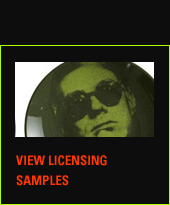 LICENSING

In 1987 the Foundation took ownership of the copyrights and trademarks which were in Warhol's possession at the time of his death. As representatives of one of the most influential and prolific artists of the 20th century, the Foundation takes very seriously its responsibility to uphold and enhance the legacy of Andy Warhol. The Foundation is committed to making Warhol's work accessible to audiences and critics around the world, and to supporting and encouraging new scholarship.

Warhol's artwork, public life and, most importantly, his seamless fusion of the two, continue to inspire creative thinkers worldwide. The licensing program seeks out partnerships with those who understand the relevance of Warhol's practice to contemporary visual and consumer culture and who create products that reflect his maverick approach to art making, his ability to present the familiar from unusual perspectives and his sophisticated sense of design. Revenues generated through licensing fees support an increasing number of the Foundation's activities.

Some highlights of recent years include license agreements with Hysteric Glamour, Levi's, Paul Frank and Uniqlo for apparel, Burton for snowboards and apparel, Philip Treacy for hats, Rosenthal for china and glassware, S.T. Dupont for pens and lighters, Royal Elastics and Adidas for footwear, Robert Lee Morris for Jewelry, Seiko for watches, Campbell's Soup Company for soup, and Maharishi for collectibles.


RIGHTS AND REPRODUCTION

As Warhol's critical reputation has grown over the past twenty years, requests to use the Foundation's copyrights and trademarks have steadily increased. The Foundation distinguishes between commercial requests and non-commercial requests. If you are interested in using Warhol imagery in an advertisement or for other commercial purposes such as licensing merchandise, please send us a message.
In an effort to encourage scholars to make use of Warhol images, the Foundation charges only nominal fees to those wishing to reproduce artworks for educational and creative purposes. If you wish to reproduce Warhol's work in a newspaper, periodical, book or research paper, contact Artist's Rights Society at 212-420-9160 (phone); 212-420-9286 (fax) or www.arsny.com.


The Foundation rigorously protects itself against unauthorized uses of its copyrights and trademarks. Through outside counsel and in conjunction with Artists Rights Society and its sister societies worldwide, the Foundation aggressively pursues and takes appropriate action against all unlawful uses of its intellectual property.