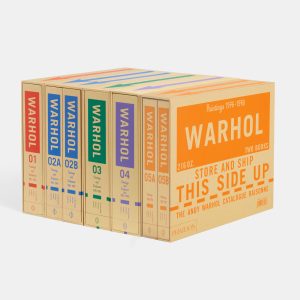 From the late 1940s until his death in 1987, Andy Warhol produced over 9,000 paintings and sculptures and nearly 12,000 drawings. The Andy Warhol Catalogue Raisonné: Paintings, Sculptures, and Drawings is an ongoing research project sponsored by the Foundation, dedicated to documenting and publishing all of the paintings, sculptures, and drawings that Warhol produced during four enormously productive and intensely inventive decades. Five volumes spanning the 1960s and 1970s have been published to date. The sixth volume, which records Warhol's paintings and sculptures of mid-1977-1980, will be published in July 2024. Volume 7: Paintings late 1979-1981, the next book of the Andy Warhol Catalogue Raisonné, is now in preparation. It is the first of five projected volumes dedicated to the artist's paintings and sculptures of the 1980s. A series of volumes are also planned that will document Warhol's drawings.
The Andy Warhol Catalogue Raisonné was initiated in 1977 by the Swiss art dealer Thomas Ammann, when Warhol was not quite fifty years old and in the middle of his career. In 1993, six years after Warhol's death, the Andy Warhol Foundation for the Visual Arts partnered with Thomas Ammann Fine Art on the project, and assumed full stewardship of the Catalogue Raisonné in 2004.
Published by Phaidon Press, each volume of the Catalogue Raisonné is profusely illustrated, acutely detailed, and contextually rich. Every work is reproduced in color and catalogued according to the most exacting scholarly methods, based on a first-hand examination of the work. Catalogue entries incorporate the ownership and exhibition history of the work as well as the literature in which the work has been reproduced and cited. Extensive narrative texts provide a critical catalogue of the genealogy and chronology of each series, related works of art, the artist's working methods, and the reception of the body of work during and after Warhol's lifetime.
For more than twenty-five years, the editors of the Catalogue Raisonné and a team of trained researchers have scoured the secondary literature including exhibition and sales catalogues, examined thousands of works of art, reviewed the artist's diaries, archives and photographs, and interviewed his assistants, colleagues, portrait sitters, and friends to understand and elucidate Warhol's materials, techniques, and artistic process. As the most comprehensive chronicle of Warhol's painting career to date and the first systematic study of his studio practices, the Catalogue Raisonné is indispensable for scholars, curators, collectors, students, and ardent fans of his work.